"The skies, that's where we belong. It'll be ours."
― Nathaniel Gevillano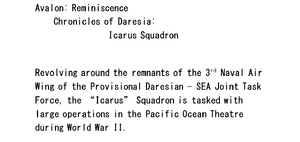 Throughout the
Second World War
, the
1st Pacific Naval Fleet
of the
Provisional Pacific Entente's
4th Tactical Fighter Squadron
, under the command of Captain Nathaniel Gevillano, participates in major operations within the Pacific Ocean Theatre that drastically changes the course of the war.
Major Characters
Nathaniel Gevillano - Formerly an instructor, Nathaniel was selected to be a commanding officer after the invasion of the Empire of Japan. He now commands the Icarus Squadron. Will somehow extend once I can even, along with all other characters.
Rafael Nuyda - Placeholder.
Rafi Soemarno - Placeholder.
Leon C. Castañeda - Placeholder.
Short Stories
The cornerstone of the 1st Pacific Naval Fleet, the 4th Tactical fighter Squadron, prepares to sortie against the Japanese approaching the Bennezusa Peninsula.
The Icarus Squadron, along with the Empire's 7th Chauffard Guard Squadron participate fending off the Japanese attacks during the early stages of the Invasion of Daresia, as the Japanese attempt to overrun the coasts of Bennezusa. Side by side, they fight to defend Bennezusa's remaining ports.
?
?
?
The Dirge of Icarus
TBA
[Spoilers] Dirge of Icarus Concept:
Despite the major pushbacks the Icarus Squadron managed to achieve in repelling the overwhelming Japanese Empire, the fall of most squadron pilots and failure in escorting the 23rd Bombardment Squadron solidified the grasp of the Japanese on Daresian soil. This would eventually result in the total loss of the outer Western garrisons, further enabling the Japanese to continue their eastward push into the heart of the mainland.
Relevant Pages
1st Pacific Naval Fleet
4th Tactical Fighter Squadron
Battle for Philippines Colonia Vitale
Evachi Wyvern
Invasion of Daresia (WWII) Pacific Entente
Polot Dalonta
Sons of Daedalus